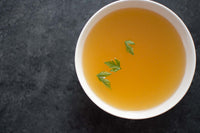 Why Choose Funny Bone Broth?
Funny Bone Broth sources all bones locally from a farm just north of Toronto, Ontario.  We use only organic vegetables and simple quality ingredients in our small batch production.  
Use Funny Bone Broth in your favourite soups, stews and to cook grains such as rice, quinoa and couscous.  
We think the best way to use Funny Bone Broth is to sip it, especially on a cold winter day.
Our broth is low in fat, low in sodium, high in protein and extremely high in DELICIOUS FLAVOUR!
Health Benefits of Bone Broth
Below are just a few of the numerous reasons why you should incorporate Funny Bone Broth into your diet:
Boosts immunity 
Alleviates common colds and bronchitis (especially for the little ones when they are under the weather)
Fights inflammation
Improves gut health
Improves bone health
Loaded with nutrients
Funny Bone Broth is SIMPLE NUTRITION your whole family can enjoy!
How is Bone Broth Different from the Store Bought Stuff?
Bone broth, broth and stock are all created using the same basic foundations: water, meat or bones, vegetables and seasonings. The main varying factor between the 3 cooking methods is the cooking time:
Broth is typically made with meat and can contain a small amount of bones. Broth is typically simmered for a short period of time (45 minutes to 2 hours). It is very light in flavor, thin in texture and rich in protein.
Stock is typically made with bones and can contain a small amount of meat. Often the bones are roasted before simmering them as this simple technique greatly improves the flavor. Stock is typically simmered for a moderate amount of time (3 to 4 hours). Stock is a good source of gelatin.
BONE BROTH is made with, you guessed it, bones! It can also contain a small amount of meat. As with stock, bones are typically roasted first. Bone broths are typically simmered for a very long period of time (often for 8 hours, and sometimes in excess of 24 hours), with the purpose being not only to produce gelatin from collagen-rich joints but also to release a small amount of trace minerals from bones.